Microsoft 365 Implementation/Support Service
CISD supports for implementation of Microsoft 365, which is a cloud service provided by Microsoft. (On 21 April 2020, Microsoft rebranded Office 365 as Microsoft 365.)
We provide not only implementation or migration of current email system but also system support or promotion after implementation. Also we can receive the inquires for checking the configurations of Microsoft 365 related to IT security.
Main Features of Microsoft 365
In addition to the features related to email or sharing calendars or contacts, you can enjoy the following features to activate internal communication:

Messaging, file transfer or video meeting with Teams


Creating internal web sites or file sharing with SharePoint


File management with OneDrive


Using Microsoft Office products via subscriptions of Microsoft 365
Case.1 Specialized trading company
Launching the intranet by SharePoint to share the Information among the branches.

Case.2 Overseas branches of general trading company
CISD supports for over 1,400 users on Microsoft 365 tenant.
Utilize Teams to have video meetings with inside or outside HK.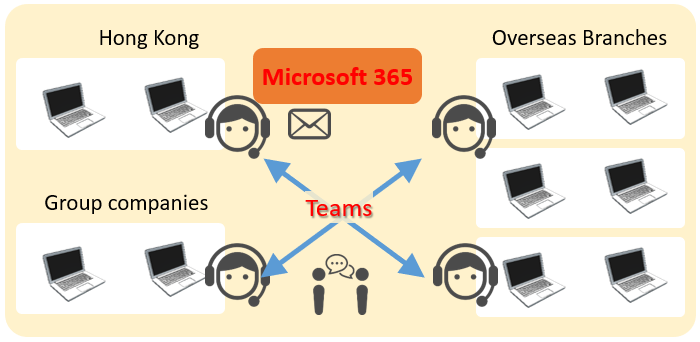 Case.3 Overseas liaison offices
Managing documents by SharePoint, once file server has been stopped.